ST. ANGELA MERICI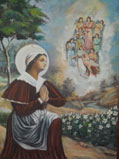 Angela Merici was born on 21st March 1474 at Desenzano, Lake Garda, Italy, into a thoroughly Christian family. In her childhood Angela lost her parents and her sister in an epidemic. One day Angela had a vision, saw heaven open and a glorious procession of angels and virgins. Angela recognized one of the virgins as her beloved deceased sister. Her sister told Angela that God wanted her to found a company of consecrated virgins at Brescia, adding that the company would grow rapidly. The young maiden was very certain that God had intervened in her life.
At this turning point Angela asked to be admitted into the Third Order of the Franciscans. Angela wore the habit of the Third Order of St. Francis and carried the pilgrim's staff. Angela was a great contemplative. People from all ranks of society sought her intercession in their difficulties and sufferings. One of her outstanding characteristics was openness to others. From this comes an understanding of her contemplative love for God and a resulting openness to serve the needs of others. She manifested an admirable pioneering spirit. Her spirit of courage, fortitude, confidence in Divine providence enabled her to found the first active congregation of consecrated virgins living in the world when all nuns were strictly cloistered. Angela gave proof of a great determination, because of the new style she proposed; living in families. Her writings and instructions denote a great clarity of mind and a profound soundness of judgment. Her skill as an organizer, her practical mind and motherly love shine forth in the Rules. She was equally an excellent educator. Angela lived through times of decline of virtue in the Church, through wars, pestilence and plague, but she always had an unshakable optimism and deep capacity for joy, inspired by her love of God and her deep confidence in Divine Providence. Angela's spirituality is one of hospitality. Her contemplative spirit did not take her out of the world into a cloister, but kept her in the midst of her where she gave life to others as the piazza still do in Italy. Angela in a spirit of deep humility named her daughters Ursulines. Believing females needed a better Christian education, she dedicated herself to teaching of gospel values. She had had two visions during her life that she would found an order of virgins to carry out her education mission. At age 61, on November 25, 1535, she selected 12 virgins and formed the Company of St. Ursula, who met regularly for conferences and devotional practices, but did not live together. On March 18, 1537, she was elected Mother General, then, died on January 27, 1540. The Ursulines were recognized by Pope Paul III in 1544, then, declared a Religious Order by Pope Gregory XIII in 1572. Ursulines established a presence in many countries around the world, some as "religious" Ursulines in convents; others as "congregated" Ursulines who established schools. On November 28, 1900, they formed the Roman Union of Ursulines with missions in 26 countries under the Insieme symbol of 100 stars united with headquarters in Rome.
She was attracted by St. Ursula and the companions . 4th century virgin martyrs of Cologne, touched the deepest aspirations of Angela by their faith, their virginity, their courage, their fidelity even to the shedding of their blood. In Ursula she chose a patron for her Company who embodied the ideals, she and her companions would try to live. So under the name of St. Ursula she kept the name "Orders of St. Ursula". Thereafter we are called Ursulines.
News & Events
Sr. Suchita Shalini Xalxo OSU is re-elected 8th Provincial Superior of Ranchi Province


8th Provincial Chapter 2019 took place from 29th...